John The "Great Canadian Gambler" TajProfessor Turmel

I'm John "The Engineer" Turmel and as the Teaching Assistant of Canada's only
Mathematics of Gambling course for four years, I realized that Blackjack was a
game of skill like Poker which could be played legally so I wanted to legalize
Blackjack for the same reason. These are just some of the news reports from that
"crusade" which culminated in the O.P.P. "Project Robin Hood" Raid on the
biggest gaming house in Canadian history with 21 Blackjack and 7 Poker tables.
The TajProfessor's Play Holdem Poker like a Bookie featuring the Turmel-Two-Step
Call Odds System is my greater claim to fame. Videos on Turmel's Poker Power Tools
Inverts of Unity: Missing Dimension in Math should help anyone up their skills.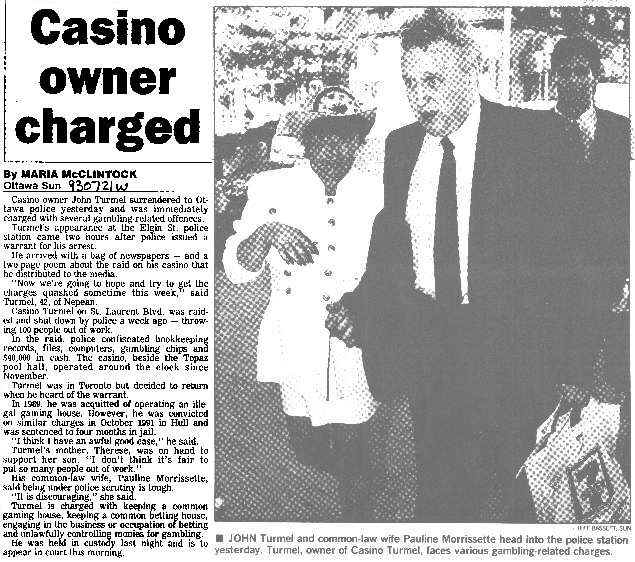 The text of these press clipping may be read at: turmelpress.com/prsgame.htm

Introduction
Previous gaming house raids and trials

Video John the Engineer Turmel is the Gambling King of the Paupers - Usuryfree week 2011

The Big Time really started with the win in the 1988 raid at
the Bayshore Hotel:

Judgment of Judge Fontana on the gaming house found-ins charge
Judgment of Judge Lennox on my gaming house keeper charge

Next thing you know, CasinoTurmel has 21 Blackjack and 7 Poker tables
going 24 hours a day 7 days a week. Soon I had buses coming in from
Montreal and the United States: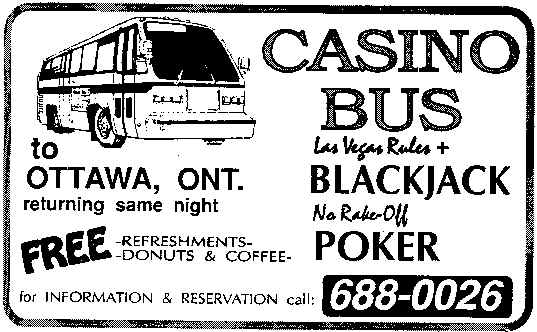 I was running ads in the local newspapers: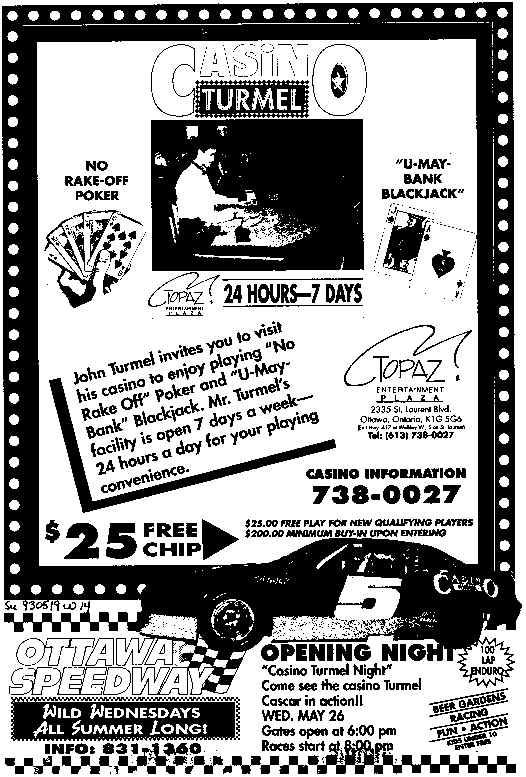 I had announced that I was going to open three more casinos in Ontario: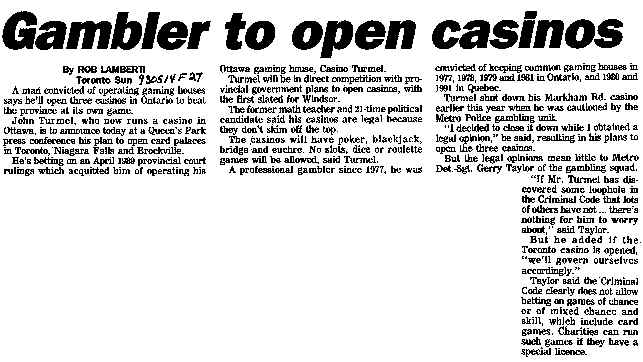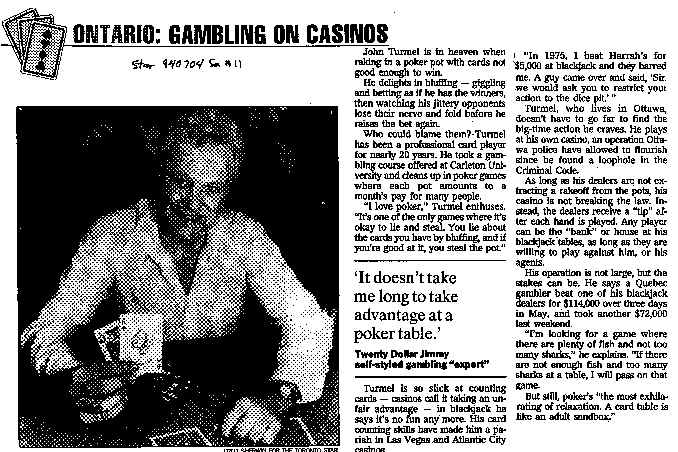 I finally held my biggest Canadian Open Holdem Tournament with over $80,000 prize money.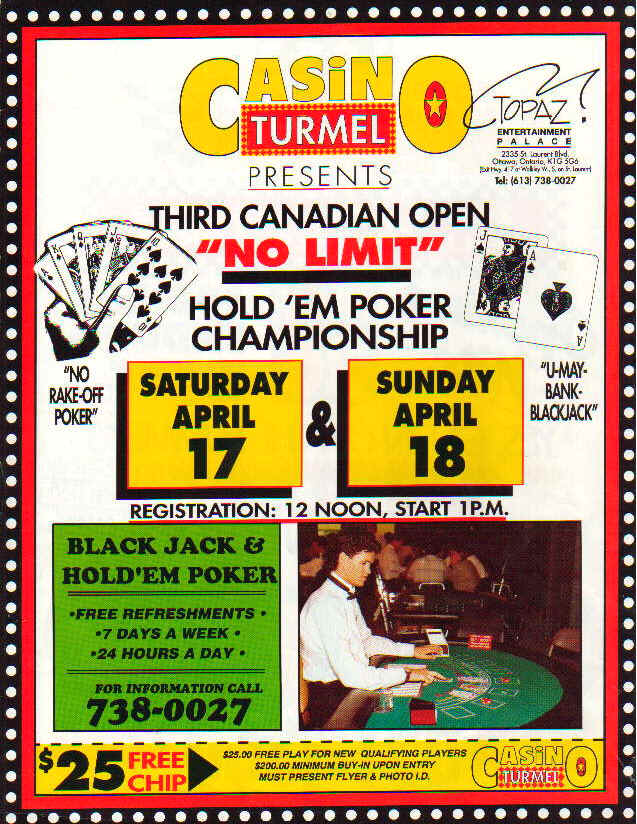 And then the Ontario Government announced that they were going to open casinos
and I knew my days were numbered whether I had the protection of double jeopardy or not.



What's interesting is that I was out of town when the raid took place and the police
wanted me to come in and give myself up on their search warrant. They kept
threatening that if I didn't, they would issue a Canada-wide arrest warrant.
I kind of liked the idea of some RCMP officer sitting in his squad car in the
northern boonies hearing on his radio: "Be on the look-out for John Turmel,
dangerous with a deck of cards." I also figured it might be the only time they
had ever issued a Canada-wide arrest warrant for a gambler so I hid out for a
whole week until they did writing a "Gaming House Defence Affidavit Poem"
before I gave up. Finally, on the day they issued the Canada-wide warrant: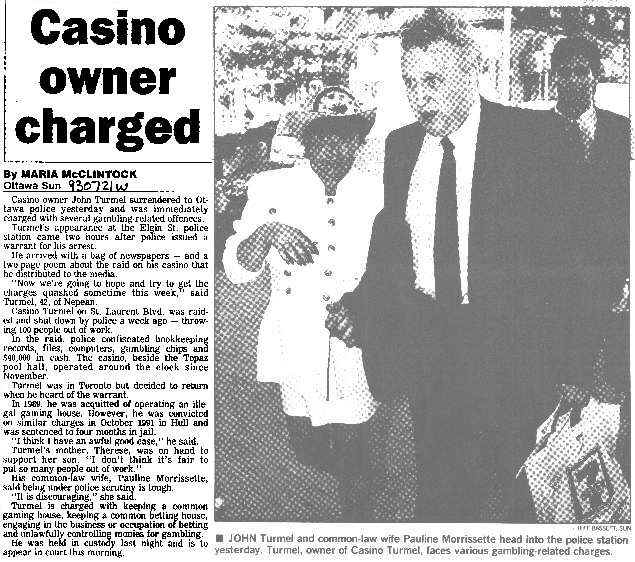 They kept me in jail overnight and the next day:



My submission to the Ontario Gambling Commission:
After all sorts of motions to quash the charges for double jeopardy,I went to trial.
The transcripts can be found at the Turmel-Two-Step Yahoo Group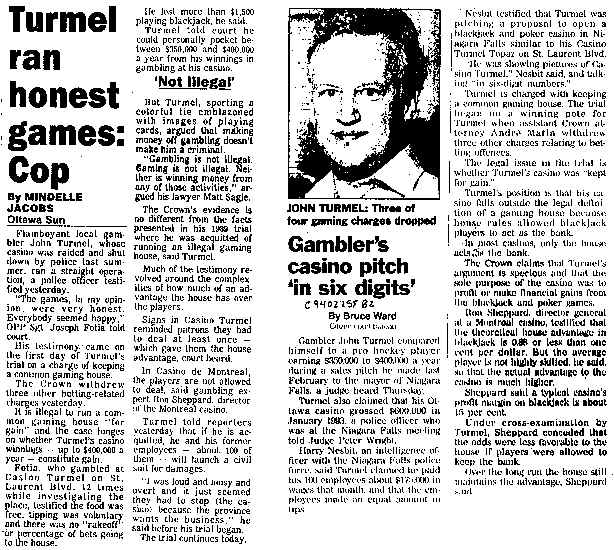 After what I consider one of the greatest travesties of justice ever,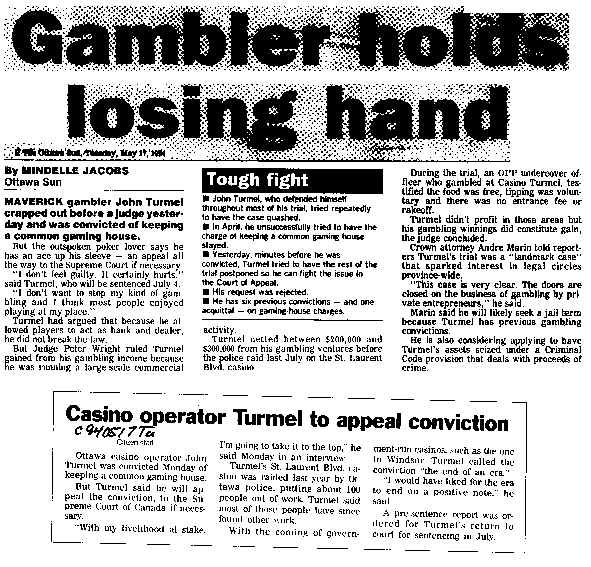 Fortunately, I had realized that if they were going to bust me, I would have to
end up broke or they'd put me in jail until I gave back anything I had left.
Since I expected to pay half my winnings in taxes, I decided to spend the
first half of the year's winnings as fast as I could and use the second half of
the year's winnings to pay my taxes with. Unfortunately for the governmenty,
the police chose to bust me after only two weeks into their half of the year.
So they get no money and I owe them: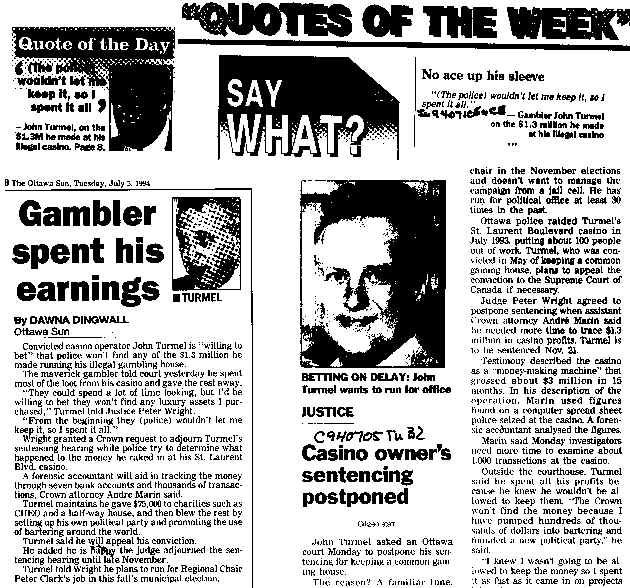 Since had received community service back in 1981 playing my accordion in old
age homes, and since the judge had used a brand new definition of the crime in order
to convict me in this "test case," I hoped I wouldn't be jailed and used the press to
add a little pressure on the Judge Wright: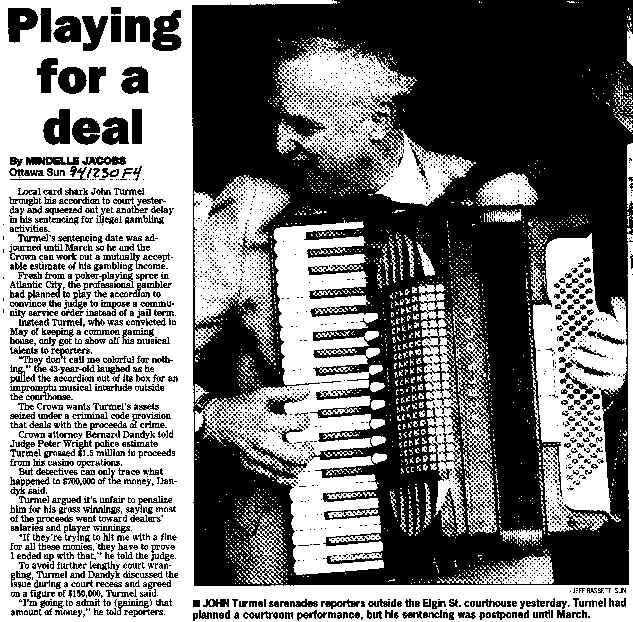 And the result was: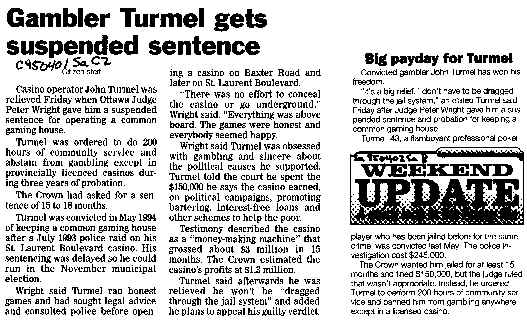 As Canada's top guerrilla lawyer, having previously presented 9 cases in
the Supreme Court, this fight was certainly going to the top:
Project Robin Hood Raid on Casino Turmel Trial Transcripts
Ontario Court of Appeal Judgment
Casino Turmel Memorandum to Supreme Court of Canada
Crown Memorandum to Supreme Court of Canada
Supreme Court of Canada Judgement
Things aren't all that bad. Back in 1989, I won my open Holdem Tournament
and realized that I could make a pretty good living playing Poker if not running
Blackjack casinos.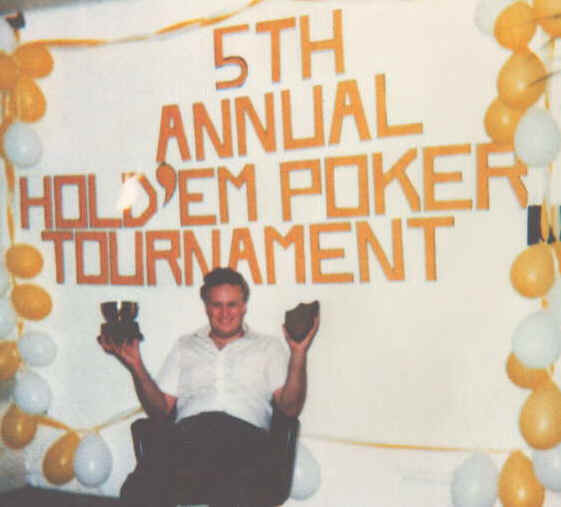 Now you'll find me playing Poker mainly at the Taj Mahal in Atlantic City
where many of the pros call me "The Professor" or in Biloxi or Tunica
Mississippi, or in Arizona, California or Washington. If we're ever playing
at the same table, say hi. And good luck to all. On that note, I'll leave you
with my favorite Poker cartoon: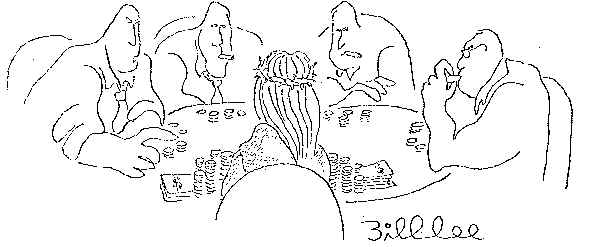 "I don't care whose son you are, we want to examine those cards."
CHIPS FROM THE 'PROJECT ROBIN HOOD' RAID ON CASINO TURMEL, THE BIGGEST GAMING HOUSE RAID IN CANADIAN HISTORY
Click for info on chips



Play Holdem Poker like a Bookie
The Turmel-Two-Step Holdem Call Odds System

Deal 60 Holdem Hands per Hour Live
Beat the Computer for Jobs Dealing Holdem by wasting less time

See my poker videos on TajProfessor's Poker Power Tools
Send a comment to johnturmel@yahoo.com
---