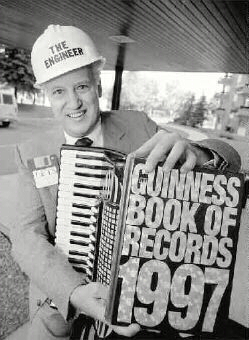 I'm John C. "The Engineer" Turmel, leader of the Abolitionist Party of Canada. I am the longest-running registered party leader to have advocated the abolition of the prohibition against drugs. I've bought Marijuana Victory bonds worth an ounce of recreational hemp when legaland wrote the Laughing Grass Poem for the 1994 Toronto Marijuana Rally (VIDEO).
I have been listed in the 1997-8 Guinness Book of World Records and Anthology of Great Canadian Characters for having contested more elections than anyone in history, 52 before I turn 50.
I have been called "Bank-Fighter Extraordinaire," "Guerrilla Lawyer" and "Interest-Rate Protestor" for my efforts helping foreclosure victims fight off their evictions in court.
As Canada's top professional gambler, the "Project Robin Hood" Raid on Casino Turmel in Ottawa Canada with 28 tables and 122 full-time employees was the biggest in Canadian history and my 10th case to the Supreme Court of Canada. I brought my guerrilla lawfare techniques to fight marijuana prohibition in the Courts.
ODE TO LAUGHING GRASS
By John C. "The Engineer" Turmel
Aug. 16, 1994 Hemp Rally in Toronto Canada
(To the tune of "Glory Glory Halleluiah")
Throughout all history, hemp's been a plant of great repute,
Four months to grow a mini-tree of twenty foot from shoot,
More oxygen converted from dioxide-carbon smogs,
Four times more wood than forestry can chop trees into logs.
A hardy plant, insecticides and fertilizers, not,
It grows so tall the shade kills weeds for fertile garden plot.
With petro-fuels with sulfur being burned into the air,
A fuel of bio-mass would help environmental care.

REFRAIN:
Hemp protects human environment,
Hemp provents human defilement,
Hemp promotes human achievement,
God's gift for certain life.

Hemp fuel, hemp paints, hemp varnishes, hemp fibers, cloth and rope,
Hemp fertilizer, oil and plastics, medicines of hope.
It's source of protein primary for man and beast alike,
The best plant used for finger in environmental dike.
While alcohol debases, vibes of negative grow strong,
God's laughing grass makes calm and jolly, wishing no one wrong.
There's never been recorded death from using hemp, they say,
It's sedative that fits receptors in our DNA.
REFRAIN
The industry of dirty petro-chemicals may fear,
It's nature's agri-chemicals we'll substitute, it's clear.
For crops of untold uses which can soon be realized,
Our greatest source of bio-mass must first be legalized.
The chance that we may yet evade environmental doom,
With planet's fastest-growing vegetable, no need for gloom.
The Abolitionists charge that "On lies are based these laws."
Abolishing hemp prohibition is our second cause.
REFRAIN

John C. Turmel
37 Colborne St. East #8
Brantford N3T 2G3
Tel/fax: 519-753-0645